Surgical Services
Rancho Regional Veterinary Hospital, prides itself in providing the most current technologies available when it comes to veterinary surgery. Our veterinary surgeon follows strict anesthetic guidelines for all of our surgical procedures to ensure the safety of your pets. Our pet hospital in Rancho Cucamonga offers the most up to date protocols to provide the safest surgical procedure for your pet. When choosing your pets anesthetic protocol, many factors are taken into consideration such as age, weight, and any previous or current health concerns specific to your pet. Every pet will receive an anesthetic protocol specific to your pet's health. Your pet is monitored closely to ensure a safe induction and smooth recovery in our veterinary surgery facility.
Rancho Regional Veterinary Hospital in California provides both Non-invasive and full anesthetic surgical procedures, from Cryo therapy surgery to Orthopedic surgery. Our staff will be more than happy to answer any concerns you may have about our anesthetic protocol.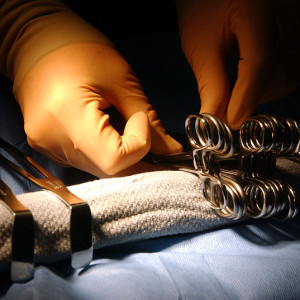 ---
Pre-Surgical Instructions
Q. Can I feed my pet?
A. Please do not feed your pet the morning of surgery. It is alright to feed your pet the night before, no later than midnight.
Q. Can I give my pet water?
A. It is alright to give your pet water up until the morning of surgery.
Q. What is the check-In process?
A. You will be placed in an exam room where a technician will asses the patient, explain the surgical procedure and answer any questions you may have. [please allow 20-30 minutes for check-in]
Q. Will someone call me?
A. Yes, every pet receives an exam by the doctor prior to surgery. If the doctor has any concerns you will receive a phone call prior to surgery. Otherwise, a technician will call you after the pet has recovered from surgery to inform you how the procedure went and what time you can pick up.
---
Post-Surgical Instructions
Q. When can I pick up my pet?
A. Once you receive a phone call from the technician or doctor after the surgery is complete, you will be informed as to what time your pet can be picked up. Typically discharges are performed between 5:00pm and 8:00pm
Q. Can I feed my pet after surgery?
A. Yes, it is alright to allow your pet a small amount of food late in the evening after allowing a small amount of water, typically a 1/4 to 1/2 of it's normal amount.
Q. Do I need to schedule a re-check?
A. Yes, a recheck is typically scheduled about 10-14 days from the date of surgery.
---
LASER SURGERY
Less Bleeding
Less Pain
Reduced Risk of Infection
Quicker Recovery Time
Increased Precision and Control
Reduction of Surgery Time
CRYO THERAPY
Cryo Therapy is an out-patient, non-invasive alternative to surgery that utilizes liquid nitrogen for the removal of small superficial dermal masses.
COLD LASER THERAPY
The PL 5000 therapy produces a low level, or cold, output that has no thermal effect on the body's tissue. Instead the laser serves to stimulate biological function positively.
Get in touch with our veterinary surgery facility in Rancho Cucamonga for more information on all of our surgical services.