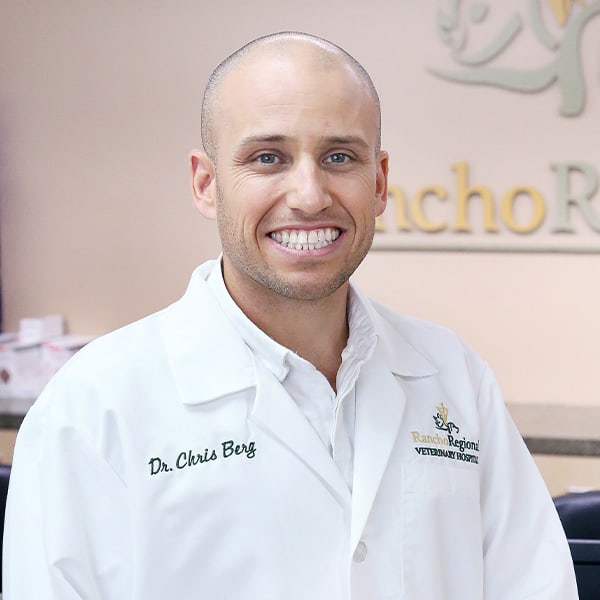 Dr. Berg
Dr. Christopher Berg is native to Southern California and grew up in Claremont. Dr. Berg attended Ross University, School of Veterinary Medicine and completed his clinical year at the University of Missouri, Columbia.
Upon Graduation in 2003, Dr. Berg obtained a position as an associate in a high quality, fast paced, multi-doctor practice in the South Bay where he gained experience in orthopedic surgery, soft tissue surgery, dentistry and internal medicine. After a two year stay in the South Bay, Dr. Berg became a solo practioner at a hospital in Pomona while planning for and developing Rancho Regional veterinary Hospital.
Dr. Berg has also received additional training in ultrasonography and CO2 laser surgery from the University of California Davis, additional veterinary dental training, is certified in veterinary stem cell therapy, is a member of the American Veterinary Medical Association, the American Veterinary Dental Society and the International Veterinary Academy of Pain Management.
Dr. Berg is the Medical Director at Rancho Regional Veterinary Hospital, he is responsible for setting and maintaining the high standard of care within our hospital as well as keeping our facility as cutting edge as possible so we may continue to offer only the best for our patients and their companions.

Drs. Berg and Bohrer met in veterinary school and married in 2005. They have two sons who mean the world to them, Austin and Dean. Dr. Berg is handy and enjoys working on various projects around his and Dr. Bohrer's home when he is away from work.
Dr. Berg also enjoys working on his muscle car, attending car shows, running, technology and spending time with the family pets which include three dogs (Little, piglet and Blueberry), three cats (Lumpy, Maxwell and Tofu) and one bearded dragon (Diego).